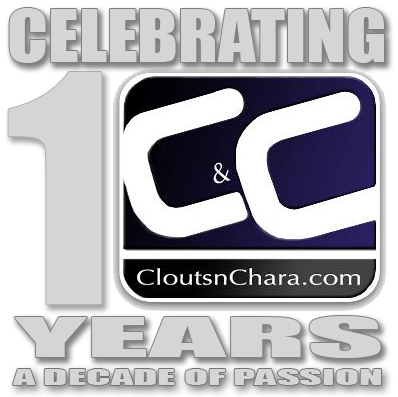 Our 10th Anniversary Bash Party has passed but we certainly can still hear the cheering that went on that night.
Customers arrived at the party at 5PM and were greeted by Geoff, Ashley & Emily. They were signed in, given raffle/drink tickets, and received a limited edition 10th Anniversary T-Shirt.
Once inside everyone got to play games to win more raffle tickets, eat some amazing food, have a drink with fellow collectors and trade with them. After only 30 minutes, Dan got on stage to give away some awesome prizes that Upper Deck, Natural Sound And a customer of ours (Thanks Ryan) generously donated just for this occasion.
Next Up Was The CNC Trivia. We Have Been Doing This At All Our Expo Parties So Figured Why Not Do It At Our 10th Anniversary Bash Party. Everyone Had To Get Into Groups Of 8 Or Less And Have A Team Name. Dan Then Started Off With The First Question And Continued Throughout All 15 Questions That Were All Based On The History Of CloutsnChara And The Team At CNC. The Winning Team Was Announced Later In The Night And Was Given A Mini Trophy, Some UD Packs And Extra Raffle Tickets.
Once The Trivia Was Over It Was Time For The Big Box Sale. Customers Got To Go Up In Groups And Purchase Some Upper Deck Product At Amazing Prices But Very Limited Quantity Was Available. Here Are Just Some Of The Hits That Were Opened During The Night!
The Last Part Of The Night Was The Giveaways And We Did Not Disappoint! Not Only Did We Give Away Some Autograph Pucks, Hats, Gift Certificates, Headphones, Oversized Cards And Uncut Sheets But We Gave Away A Box To Every Single Ticket Holder That Was In Attendance! We Aren't Talking About Blaster Boxes, We Gave Away UD Premier, The Cup, Fleer Showcase, Black, Ultimate And Lots Of Other Amazing Upper Deck Product.
Once Everyone Got Their Free Boxes, They Were Surprised With An Extra Giveaway From Upper Deck. Everyone Got A Wrapped Gold Ticket And Only 5 Of Them Said "Finalist". All 5 Of The Finalist Got On Stage And They Had To Answer A Trivia Question In Order To Win The Big Prize Of The Night! The Big Prize Was A Team Canada Jersey Autographed By Mitch Marner And Connor McDavid!
The Party Was A Big Success And We Would Like To Thank Everyone For Coming Out And Having Fun With Us. We Appreciate All The Support You Give Us And Look Forward To The Next 50 Years In Business. We Would Like To Thank Upper Deck For All Their Support Since We Opened 10 Years Ago And Their Continued Support. We Also Would Like To Thank Universal Distribution As Without Them We Would Not Be In Business. They Have Helped Us Grow The Business To What It Is Now And We Look Forward To Having Their Continued Support For Many Years.