Join us in-store Saturday February 15th and receive a FREE pack of official Upper Deck hockey cards!

National Hockey Card Day, now in its ninth year, is a day of celebration for Canadian hockey card collectors and hockey fans throughout the country!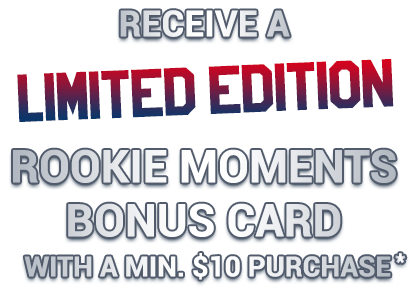 2019-20 Rookies, Established Stars and Icons of the Game!

Super rare Autographed Cards randomly seeded into packs!
*Upper Deck product only. While supplies last.
2020 Checklist
Card #

Player Name

Team Name

Set Name

Notes

CAN-1

Nick Suzuki

Montreal Canadiens

Canada's Rookies

#13 Overall Pick (2017 Draft); 2015 World U17 Hockey Challenge Gold Medalist

CAN-2

Ville Heinola

Winnipeg Jets

Canada's Rookies

#20 Overall Pick (2019 Draft); 2019 World Junior Championship Gold Medalist

CAN-3

Ryan Poehling

Montreal Canadiens

Canada's Rookies

#25 Overall Pick (2017 Draft); 2019 World Junior Championship Silver Medalist, Tournament MVP and "Best Forward;" Scored a Hat-Trick in NHL Debut

CAN-4

Rasmus Sandin

Toronto Maple Leafs

Canada's Rookies

#29 Overall Pick (2018 Draft); 2016 World U17 Hockey Challenge Gold Medalist

CAN-5

Erik Brannstrom

Ottawa Senators

Canada's Rookies

#15 Overall Pick (2017 Draft); 2018 World Junior Championship Silver Medalist

CAN-6

Nathan MacKinnon

Colorado Avalanche

Pride of Canada

#1 Overall Pick (2013 Draft); 2013 Memorial Cup Champ & MVP; 2015 World Championship Gold Medalist; 2014 Calder Memorial Trophy Winner (Rookie of the Year);

Three-Time NHL All-Star

CAN-7

Mark Scheifele

Winnipeg Jets

Pride of Canada

#7 Overall Pick (2011 Draft); 2016 World Championship Gold Medalist;

Two-Time 30-Goal Scorer; 2019 NHL All-Star

CAN-8

Connor McDavid

Edmonton Oilers

(Pictured in an All-Star Uniform)

Pride of Canada

#1 Overall Pick (2015 Draft); Three-Time World Champion & NHL All-Star; 2017 & 2018 Art Ross Trophy & Ted Lindsay Award Winner; 2017 Hart Memorial Trophy Winner

CAN-9

Sean Monahan

Calgary Flames

Pride of Canada

#6 Overall Pick (2013 Draft); 2011 World U17 Hockey Challenge & Ivan Hlinka Memorial Tournament Gold Medalist; Youngest Players in Flames' History to 100 Goals

CAN-10

Marc-Andre Fleury

Vegas Golden Knights

Pride of Canada

#1 Overall Pick (2003 Draft); Only the Third Goalie in NHL History to be Selected #1 Overall;

Three-Time Stanley Cup Champion; 2010 Olympic Gold Medalist; Four-Time NHL All-Star

CAN-11

Grant Fuhr

Edmonton Oilers

Hockey Heroes

#8 Overall Pick (1981 Draft); Five-Time Stanley Cup Champion; Six-Time NHL All-Star;

1988 Vezina Trophy Winner (Best Goaltender); Hockey Hall of Famer

CAN-12

Lanny McDonald

Toronto Maple Leafs

Hockey Heroes

#4 Overall Pick (1973 Draft); Inaugural Canada Cup Champion (1976); 1983 Bill Masterton Memorial Trophy Winner; 500-Goal/1,000-Point NHL Scorer; Hockey Hall of Famer

CAN-13

Steve Yzerman

Detroit Red Wings

Hockey Heroes

#4 Overall Pick (1983 Draft); Three-Time Olympic Gold Medalist (Player & Team Canada Executive Director); 19-Year Team Captain; Four-Time Stanley Cup Champion (Player & Executive); Amassed 692 Goals & 1755 Points in the NHL; Hockey Hall of Famer

CAN-14

Phil Esposito

Boston Bruins

Hockey Heroes

First Player in NHL History to Score 100 Points in a Single Season; Five-Time Art Ross Trophy Winner; Two-Time Lester B. Pearson Award Winner; 10-Time NHL All-Star;

Stanley Cup Champion & Hockey Hall of Famer

CAN-15

Joe Sakic

Quebec Nordiques

Hockey Heroes

#15 Overall Pick (1987 Draft); Three-Time Canadian Olympian & 2002 Gold Medalist; 13-Time NHL All-Star; Hart Memorial Trophy, Conn Smythe Trophy, Lady Byng Memorial Trophy and Lester B. Pearson Award Winner; Two-Time Stanley Cup Champion & Hockey Hall of Famer

CAN-16

Quinn Hughes

Vancouver Canucks

Rookie Moments

#7 Overall Pick (2018 Draft); 2017 World U18 Championship Gold Medalist &

2018 World Championship Bronze Medalist

CAN-LM

Lanny McDonald

Toronto Maple Leafs

Autographs

CAN-MF

Marc-Andre Fleury

Vegas Golden Knights

Autographs

CAN-RP

Ryan Poehling

Montreal Canadiens

Autographs

V-18

Cale Fleury

Montreal Canadiens

Victory Black Rookies

#87 Overall Pick (2017 Draft)

V-19

Rasmus Sandin

Toronto Maple Leafs

Victory Black Rookies

V-20

Ville Heinola

Winnipeg Jets

Victory Black Rookies

V-21

Nick Suzuki

Montreal Canadiens

Victory Black Rookies

V-22

Conor Timmins

Colorado Avalanche

Victory Black Rookies

#32 Overall Pick (2017 Draft); 2018 World Junior Championship Gold Medalist & Tournament Plus/Minus Leader (+15)

M-6

Carlton the Bear

Toronto Maple Leafs

Mascots

M-7

Harvey the Hound

Calgary Flames

Mascots

M-8

Fin the Whale

Vancouver Canucks

Mascots

M-9

Youppi!

Montreal Canadiens

Mascots

M-10

Spartacat

Ottawa Senators

Mascots