Frequently Asked Questions
If you have any questions that are not answered down below, please contact us at [email protected], and we will do our best to answer any questions you may have.
General
What is CloutsnChara?
Cloutsnchara is a site where many collectors chat about various sports and show their recent box breaks. We have thousands of unique player and set collectors on our forums. Geoff and Dan are the owners and both have a huge passion in collecting as well which makes their knowledge of the hobby much better. Cloutsnchara is dedicated to carrying a large selection of all sports, TV Shows, Gaming and other collectables.
Why should I buy from CloutsnChara?
We do 7 Live shows every week on YouTube and never leave any questions hanging. Your satisfaction is our top priority and as we always say "It's more than a hobby, It's a passion!"
Where are you located?
Our hobby shop is located at:
645 Victoria Street North Unit #2 (Behind Natural Sound)
Kitchener, ON
N2H 5G3
Canada
Feel free to stop in and say hi!
What are Certified Diamond Dealers and Authorized Internet Retailers?
Certified Diamond Dealers are brick and mortar retail stores that specialize in selling hobby products. These partners have signed an agreement to distribute Upper Deck products in a fashion that is best for the business.
Authorized Internet Retailers (also known as AIRs) are Certified Diamond Dealers who have a solid history of supporting Upper Deck products and customers. AIRs are able to represent Upper Deck and sell products online to customers.
Group Breaks
For detailed information on our Group Breaks, please click here.
What are 'Group Breaks'?
The basic setup of a group break is that multiple people split the costs of the boxes (multiple boxes or a case of one type) in the break and then the hits are divided up amongst the people in the break (depending on what sports team that they get)
Group breaks can involve every product from Cup, Heroes and Prospects, Superlative, Dominion, Chrome, Ultimate, Series 1, O-Pee-Chee and more…..
It is a great alternative to buying a full case or box. For example, a tin of The Cup hockey can run you $500.00 whereas our 6 tin Cup case (value $3000) group break is $100 per spot.
Group Break's are a great way to be involved in a large break at minimal costs.
How do Group Breaks work?
There are 31 people in a group break and 31 teams in the NHL. Once each spot is filled and payments are received for each spot in the break, we open the boxes. You will receive any hits (non-base cards) of your team from the group break you signed up for.
All Group Breaks are done live on YouTube. Each group break has a scheduled time but will only go once all spots are filled. After the break the video will be uploaded onto our YouTube channel for you to re-watch.
Once the break is over, the cards will be divided up into teams and shipped/picked up to the appropriate members that have those teams.
E-Tranfers For Group Breaks
We accept E-Transfer on our online store for all orders. You simply check the box for paying by E-Transfer and continue the checkout, once the checkout is complete, go to your online banking and send us the E-Transfer for the amount of your order.
PLEASE NOTE – MAKE SURE YOUR NAME/ID IS IN THE NOTES OF THE PAYMENT SO WE KNOW YOU SENT THE PAYMENT.
Once we receive the payment, we will mark you paid. If your payment is not received within an hour of your checkout, we have the right to cancel your order. For Group Breaks, when we are live, you will have only 10 – 20 minutes to send us the E-Transfer as we need to keep moving the breaks when they get filled.
If you have any questions, please contact us and we will help you with the process.
Online Store
Why should I make an account on the Online Store?
We recommend making an account on our online store when you purchase items because you can track your order, see previous orders, update your shipping address and receive CNC points on your purchase!

To learn more about our rewards program, please click here.
Are your prices in CAD or USD?
As we are a Canadian business, all of our prices are in Canadian Dollars (CAD).
What types of payment do you accept?
We currently accept PayPal, Credit Card (Visa/Mastercard) and E-Transfer payments for our online checkout and in our store along with Debit/Cash. If you wish to buy a product and pay another way please send an email to [email protected] and we'll do our best to make sure it can happen.
If you have any questions on the check-out procedure please let us know and we will gladly walk you through it.
Phone 519-954-8278
Email – [email protected]
What does a Pre-Order mean?
Pre-Order means that the item is not currently available on the market today but it will be on the specific date that is shown. Many supplies will receive card images and pricing months before the product goes live so this is your chance to get the best price on the product before it sells out.
Please note – If you pre-order a box and purchase a in stock box boxes at the same time, we will ship both once the pre-order box arrives. If you would like the in stock product shipped before the pre-order then please call us at 519-954-8278 or email us ( [email protected] ) to pay an extra $12 (Canada) or $19 (USA) shipping. If you purchase multiple pre-ordered items that release at different times, you will have to pay for shipping on each release or have them all shipped at the same time once all are in stock.
All sales are final. A 10% restocking fee (Below $500) or 5% restocking fee (At or Above $500) will now be applied to all refunded purchases due to external policy changes. Please note, you can have the total amount deposited into your CNC Reward Points total without a restocking fee.
Pre-Order Allocations
On certain products we are allocated on the amount of boxes/cases we are allowed to get. We do not find out our quantity until the product is shipped to us. Unfortunately due to allocations, we may have to cut your quantity on your order. The amount we cut is based on how much we get allocated on those specific products.
What does "Online Only" mean?
When a product has the "Online Only" icon, it means the product is only available online and is not available in store. If you order a product that has the badge, we will order the product from our distributor and ship it once it arrives. It normally takes 2-4 business days to get the product in and then ship it out to you. We will email you when we order the product from our distributor and inform you of the time frame we expect the product to be delivered to us. If the item is a pre-sale, we will order the item from our distributor and ship the item once it's released.
There is a possibility that our distributor is out of stock on the product which we will then notify you and refund your money.
All sales are final. A 10% restocking fee will be applied to all cancelled "Online Only" purchases.
The product I want is out of stock. Can you get it for me?
Some products we can still get from our distributor and sometimes we can't. Email us at [email protected] and let us know which product it is and we can see if we can get it for you.
What is the "Wish List" in the product pages?
You can now make a wish list of products you would like to purchase down the road. Make a list for your family/friends for Christmas or your Birthday.
I live in Canada, are there taxes?
Yes. As we are a Canadian business, we have to charge the applicable tax rates. Please look at the chart below for details and percentages.
Alberta 5%
British Columbia 5%
Quebec 14.975% (Into affect September 1st, 2019)
Manitoba 5%
New Brunswick 15%
Newfoundland and Labrador 15%
Northwest Territories 5%
Nova Scotia 15%
Nunavut 5%
Ontario 13%
Prince Edward Island 15%
Saskatchewan 11%
Yukon 5%
What is the 'Open Live' option on some products?
With this option checked, we will open the box live on camera and upload the video to our YouTube channel. You will receive the contents of the box (minus the base) at a reduced shipping rate of $3. If you request to have the base, there may be additional shipping costs.
Note: this feature is optional and unchecked by default.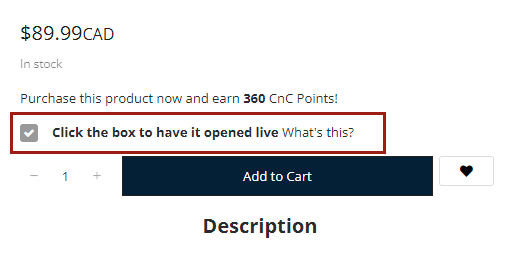 Shipping
For detailed information on shipping, please click here.
I live outside Canada and the US. Can you still ship to me?
For our international customers, please contact us at [email protected]. We will do our best to accommodate you.
Do you offer tracking?
All online store packages shipped by us have a tracking number with Canada Post. Group breaks vary depending on the value of the package (Only in Canada). USA/International shipments are shipped regular mail unless tracking is paid for.
To check the status of your package, please visit the Canada Post website here.
When will my package be shipped?
Online store orders are shipped Monday – Friday based on when the order comes in. Group breaks are shipped once a week and we try our best to get them out every weekend. If you need your package delivered right away, please email us and we can give you options for faster shipping – [email protected]
Will my package be insured?
All packages are automatically insured for $100. If you would like more insurance on your package, it will be $3 for each additional $100 insurance. If there is an issue with your package and a claim is opened with Canada Post, you will only receive up to the amount that the package was insured for.
Do you accept returns?
Due to the nature of the product, we can not accept returns on boxes of any sport.
When will my package arrive?
Shipping time varies. For detailed shipping information, please click here.
| | | | | |
| --- | --- | --- | --- | --- |
| | Local (Southern Ontario) | Ontario & Quebec | Rest of Canada | United States |
| Expedited | 1 Day | 1-3 Days | 2-7 Days | 4-7 Days |
| XpressPost | Next Day | Next Day | 2 Days | n/a |
| Priority | Next Day | 1-3 Days | 1-3 Days | n/a |
*Shipping times do not include NWT, Yukon, Nunavut, Hawaii, Alaska, and New Mexico. Please contact us for a quote.
For our international customers, please contact us at [email protected]. We will do our best to accommodate you.
Do I need to sign for my package?
Yes. Your signature is required for all packages.