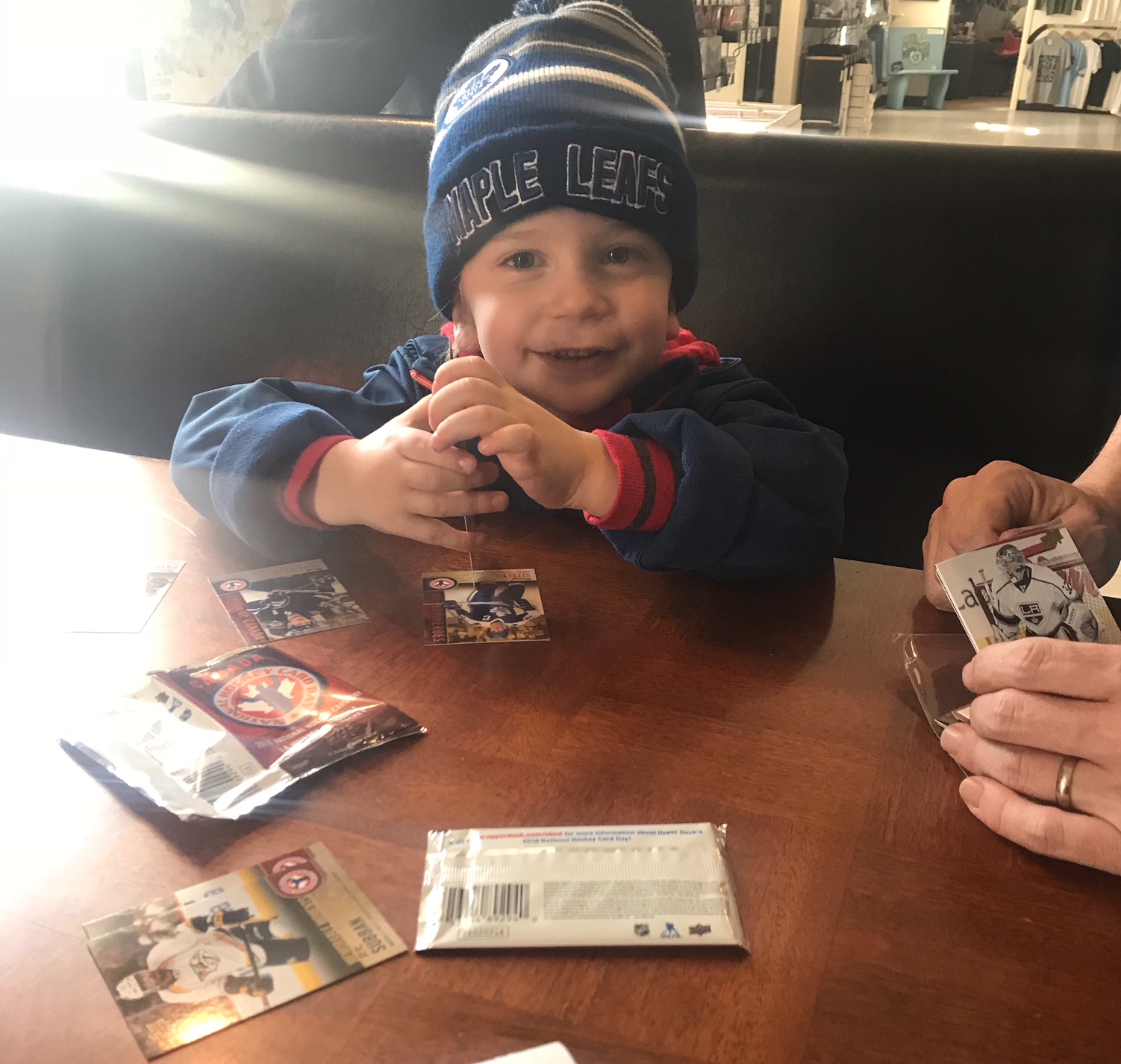 Thanks to everyone who came out on March 3rd, 2018 to our store to get your FREE pack of hockey cards. National Hockey Card Day will be back next year, hope to see you all there too!
Here's 2018 National Hockey Card Day product information.
Configuration
5 Cards per Pack
Product Highlights
· National Hockey Card Day continues to bring in collectors of all types from new collectors to wax busting veterans all looking to get their hands on this exclusive and exciting set!
· Find an assortment of Canada's up and coming stars with Canada's Rookies featuring the likes of Pierre-Luc Dubois and Nolan Patrick
· Additional 16th Card – Gift With UD Purchase while supplies last!
– P.K. Subban First Game Back in Montreal Memorable Moments Card available EXCLUSIVELY at Hobby!
· Victory Black Rookies cards return along with an all-new NHCD 10th anniversary tribute set commemorating 10 great years of this hockey card collecting tradition!
· Look for super rare autograph inserts randomly seeded in packs!
Checklist
CAN-1 Nolan Patrick Philadelphia Flyers Canada's Rookies
CAN-2 Josh Ho-Sang New York Islanders Canada's Rookies
CAN-3 Tyson Jost Colorado Avalanche Canada's Rookies
CAN-4 Pierre-Luc Dubois Columbus Blue Jackets Canada's Rookies
CAN-5 Owen Tippett Florida Panthers Canada's Rookies
CAN-6 Erik Karlsson Ottawa Senators Pride Of Canada
CAN-7 Carey Price Montreal Canadiens Pride Of Canada
CAN-8 Mark Schiefele Winnipeg Jets Pride Of Canada
CAN-9 Leon Draisaitl Edmonton Oilers Pride Of Canada
CAN-10 Auston Matthews Toronto Maple Leafs Pride Of Canada
CAN-11 Steve Yzerman Detroit Red Wings Hockey Heroes
CAN-12 Guy Lafleur Montreal Canadiens Hockey Heroes
CAN-13 Darryl Sittler Toronto Maple Leafs Hockey Heroes
CAN-14 Mark Messier Edmonton Oilers Hockey Heroes
CAN-15 Mario Lemieux Pittsburgh Penguins Hockey Heroes
CAN-16 P.K. Subban Nashville Predators Memorable Moments First Game Against Montreal
V-13 Josh Ho-Sang New York Islanders Victory Black Rookies Canada
V-14 Victor Mete Montreal Canadiens Victory Black Rookies Canada
V-15 Owen Tipett Florida Panthers Victory Black Rookies Canada
V-16 Pierre-Luc Dubois Columbus Blue Jackets Victory Black Rookies Canada
V-17 Nolan Patrick Philadelphia Flyers Victory Black Rookies Canada
10TH-CM Connor McDavid Edmonton Oilers NHCD 10th Anniversary Tribute
10TH-JT John Tavares New York Islanders NHCD 10th Anniversary Tribute
10TH-NM Nathan McKinnon Colorado Avalanche NHCD 10th Anniversary Tribute
10TH-PS P.K. Subban Nashville Predators NHCD 10th Anniversary Tribute
10TH-SS Steven Stamkos Tampa Bay Lightning NHCD 10th Anniversary Tribute
CAN-GL Guy Lafleur Montreal Canadiens Autographs Legend Auto
CAN-JH Josh Ho-Sang New York Islanders Autographs Rookie Auto
CAN-MS Mark Schiefle Winnipeg Jets Autographs Veteran Auto